Application process
Applying for one of our Apprenticeship Training programmes is straightforward but will require some research and preparation from you!
Please see the steps of our application process below.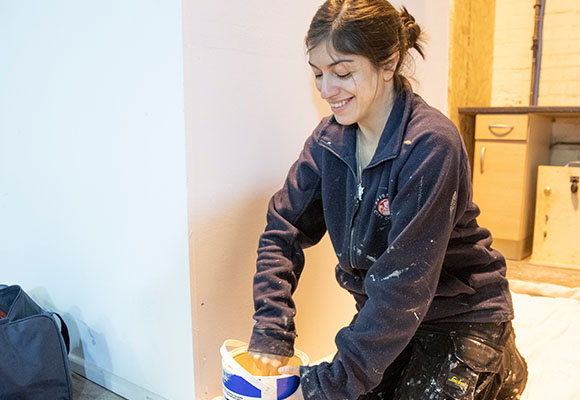 Step 1 – Apply Online
Once you have decided which trade, or trades, you are interested in you can complete our online application form. You will need to ensure you have your national insurance number to hand (if you have it), plus details of your expected/confirmed school grades . Please make sure you that you use an email address you access regularly, as we will be emailing you further information!
Step 2 – Assessment
Shortly after applying you will receive log in details to complete an online assessment. This assessment tests basic skills and knowledge that are relevant to working in a construction environment such as basic maths skills, English comprehension, mechanical reasoning, spatial awareness and some basic electrical principles. You will also be sent a list of topics and links so you can revise prior to your test.
Step 3 – Interview
If you successfully pass the assessment stage, you will be invited for an interview with two of our Training Officers. Our interviews are held online via Microsoft Teams, and you will be sent details of the date, time and how to access the interview via email. You will also be asked to send in your cv, your school grades (or predicted) and an attendance report.
Step 4 – Offer Stage & Employment
If you pass the interview stage, you will receive a 'conditional offer' from us. This offer is on the condition that you secure employment before the start of training programme in the Autumn. Please see the finding employment section for hints and tips on how to secure employment for your Apprenticeship.
We offer advice and guidance sessions to successful applicants and can support with getting your cv employer ready and give you lots of advice on maximising your chances of finding an employer.
We will also try match you to any vacancies that come through to us from our employer networks.
Step 5 – Starting your Apprenticeship
Once you have found an employer, we will get in touch with them to ensure they can offer you the support and range of work needed to enable you to complete your apprenticeship. You will be assigned an On Site Bristol Training Officer who will meet with you and your employer to complete the necessary enrollment documentation. We will also organise your college placements and tell you, and your employer, the dates you will be at college.