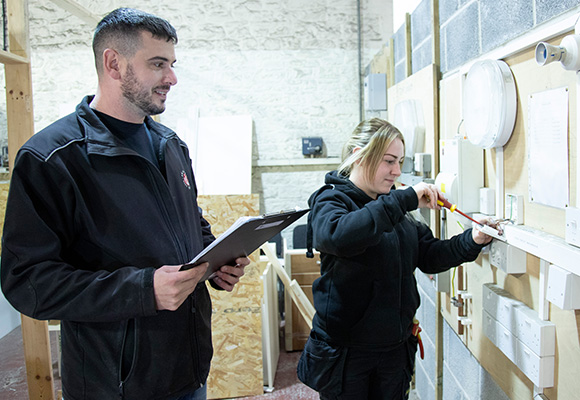 What is an electrician?
Electricians inspect, test and install wiring systems and equipment to approved standards. They need a full understanding of the maths and science involved as well as the day to day practical skills of the trade. The type of work they do depends on their specialist training and experience; it could involve work indoors in a customer's house, in a factory, office or workshop, or outdoors on a building site. Typical tasks could include running cables, wiring switches and consumer units to working on larger commercial equipment.
Responsibilities could include:
Depending on the size and nature of the projects, electricians will be responsible for any of the following:
Assessing plans to work out where wiring and plug sockets will need to be fitted.
Installing initial wires along the ceilings, walls and floors – this is known as the 'first fix.'
Fitting fuse boxes, earth terminals and circuit breakers
Mounting back boxes on walls for the points and sockets
Connecting initial wiring to sockets, switches, light fittings, power supplies, computer networks and appliances – this is known as the 'second fix.'
Installing alarms and security systems
Testing wiring and electric equipment for faults
Fixing faults that come to light through testing – this is known as 'remedial repair work.'
Who is this apprenticeship for?
If you have an interest in working as an Electrician, are a methodical, practical, person with the ability to work accurately then this could be the apprenticeship for you!
As with all our apprenticeships, you need to be employed or have a current offer of employment in the electrical trade.  We can offer advice and support on finding employment in the this sector and liaise with your employer to ensure your apprenticeship gets off to an amazing start!
How do I get qualified?
This apprenticeship is Level 3 and will last approx. 4 years.
You will be required to attend college one day per week where you will be taught theory and practical skills.
You may also be required to gain your Functional Skills in maths and English.
You will be required to build a portfolio of work throughout your training to demonstrate your knowledge, skills & behaviours.
You will need to pass an End Point Assessment which consists of a Knowledge Assessment and Practical Skills Assessment.
How will I be assessed?
You will attend college one day per week and be with your employer for the remaining time.  You will be assessed in a variety of ways and will receive regular constructive feedback.  You will be assigned a dedicated Training Officer who will support you for the duration of your Apprenticeship and will complete progress reviews with you, your employer and your assessor.
Your success will be measured by attendance and punctuality, professional knowledge, skills and behaviours and the production of evidence including workplace observations, professional discussions and workplace reviews.  You will be required to pass an End Point Assessment at the end of your apprenticeship to demonstrate your knowledge, skills and behaviours.