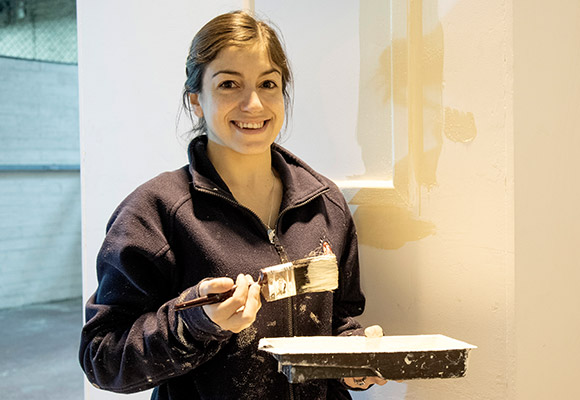 What is a painter and decorator?
Painter and Decorators work in homes and commercial properties and undertake the decoration and protection of buildings. You could be working inside or outside and could be working as part of a team or on your own. Painters and decorators are expected to work to a high standard and enjoy attention to detail. As with all roles in construction, the ability to interact with colleagues and clients is key.
As a painter and decorator, you would work on a variety of domestic and industrial projects ranging from re-decorating homes to applying heavy-duty finishes to large structures like bridges.
On a domestic job, you would use paint, varnishes and wallpaper to decorate rooms. You would follow the householder's instructions about choice of colour, finishing texture and wallpaper patterns. Your main tasks would include:
measuring surface areas to work out how much paint or wall covering you need
stripping off old wallpaper or paint
filling holes and cracks and making sure surfaces are level
preparing surfaces with primer and undercoat
mixing paint to the right shade, either by hand or using computerised colour-matching equipment
applying layers of paint and hanging wallpaper
tidying up after finishing a job
Who is this apprenticeship for?
If you have an interest in working in the painting and decorating trade, are a practical, hands-on person with an excellent eye for detail and the ability to work accurately then this could be the Apprenticeship for you!
As with all our Apprenticeships, you need to be employed or have a current offer of employment in the site joinery sector.  We can offer advice and support on finding employment in the correct sector and liaise with your employer to ensure your Apprenticeship gets off to an amazing start!
How do I get qualified?
This apprenticeship is Level 2 and will last approx. 3 years.
You will be required to attend college one day per week where you will be taught theory and practical skills.
You may also be required to gain your Functional Skills in maths and English.
You will be required to build a portfolio of work throughout your training to demonstrate your knowledge, skills & behaviours.
You will need to pass an End Point Assessment which consists of a Knowledge Assessment and Practical Skills Assessment.
How will I be assessed?
You will attend college one day per week and be with your employer for the remaining time.  You will be assessed in a variety of ways and will receive regular constructive feedback.  You will be assigned a dedicated Training Officer who will support you for the duration of your Apprenticeship and will complete progress reviews with you, your employer and your assessor.
Your success will be measured by attendance and punctuality, professional knowledge, skills and behaviours and the production of evidence including workplace observations, professional discussions and workplace reviews.  You will be required to pass an End Point Assessment at the end of your apprenticeship to demonstrate your knowledge, skills and behaviours.