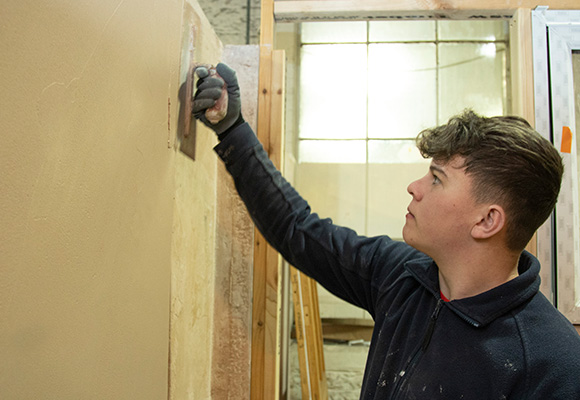 What is a plasterer?
A Plasterer will work on anything from new-build housing, commercial developments to major restoration projects. There are two main types of work:
Solid plastering – Applying wet finishes to walls, ceilings etc using hand tools or spraying equipment to level and protect surfaces.
Fibrous plastering – Making ornamental plasterwork, such as cornices and architraves from plaster and short fibres.
Responsibilities can include:
Speaking with clients to establish their requirements
Measuring ceilings and walls
Giving quotes based on resources required to complete work
Preparing the surface of a wall. This involves removing old plaster and ensuring that all plasterboards are level
Spreading wet plaster mix onto walls, working from top to bottom
Scraping the first coat to make a satisfactory base for the second coat
Applying a third, thinner, final coat
Maintaining existing plasterwork using specialist hand tools
Correcting plasterwork
Applying or removing (skimming) artex from ceilings and walls
Pebble dashing or applying sand or cement to external walls
Who is this apprenticeship for?
If you have an interest in working in the construction trade, are a practical, hands-on person with a good eye for detail and the ability to work accurately then this could be the Apprenticeship for you! A plasterer will be a practical, hands-on, person who finds enjoyment from creating a great finish to a site.  The skillset of a plasterer should include:
Excellent hand-eye co-ordination skills
Practical abilities – good with your hands and tools
Upper-body strength
Physical stamina
Ability to work to deadlines
Ability to work in a team
Good attention to detail
Interpersonal skills, as you will often have to speak to clients
Confidence with numbers – you have to calculate wall, ceiling and floor areas and the volume of materials needed
Artistic ability (particularly for decorative jobs and fibrous plastering)
As with all our Apprenticeships, you need to be employed or have a current offer of employment in the site joinery sector.  We can offer advice and support on finding employment in the correct sector and liaise with your employer to ensure your Apprenticeship gets off to an amazing start!
How do I get qualified?
This apprenticeship is Level 2 and will last approx. 3 years.
You will be required to attend college one day per week where you will be taught theory and practical skills.
You may also be required to gain your Functional Skills in maths and English.You will be required to build a portfolio of work throughout your training to demonstrate your knowledge, skills & behaviours.
You will need to pass an End Point Assessment which consists of a Knowledge Assessment and Practical Skills Assessment.
How will I be assessed?
You will attend college one day per week and be with your employer for the remaining time.  You will be assessed in a variety of ways and will receive regular constructive feedback.  You will be assigned a dedicated Training Officer who will support you for the duration of your Apprenticeship and will complete progress reviews with you, your employer and your assessor.
Your success will be measured by attendance and punctuality, professional knowledge, skills and behaviours and the production of evidence including workplace observations, professional discussions and workplace reviews.  You will be required to pass an End Point Assessment at the end of your apprenticeship to demonstrate your knowledge, skills and behaviours.