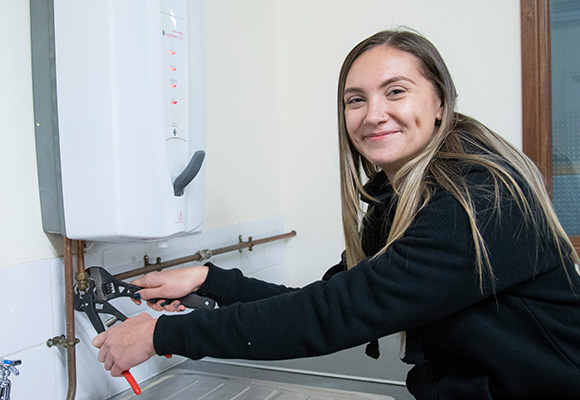 What is a gas engineer?
Gas engineering involves the safe installation, commission, decommission and ongoing service and repair of gas appliances in either a domestic or non-domestic setting. Appliances can include, a range of work categories such as central heating boilers, unvented hot water storage, ducted air heaters, cookers, space heaters, meters, alternative fuel, boosters, testing and purging for industrial pipework. Roles in gas engineering will include explaining how installations and appliances work, providing energy efficiency advice and ensuring customer service excellence at all times. Gas engineering operates strictly within the requirements of health and safety legislation.
Responsibilities could include:
installing appliances and systems
carrying out planned maintenance checks on systems and equipment
testing controls and safety devices to make sure they're working properly
finding and repairing gas leaks using computerised fault-finding equipment
replacing or repairing faulty or old parts
ordering new parts
keeping records of work you've carried out
giving customers advice about gas safety and energy efficiency
Who is this apprenticeship for?
If you're looking for a new and exciting career, the gas industry has much to offer. Whether it's working for a company, becoming self-employed, or starting your own business, the opportunities are endless.
As with all our apprenticeships, you need to be employed or have a current offer of employment in the gas sector sector.  We can offer advice and support on finding employment in the correct sector and liaise with your employer to ensure your apprenticeship gets off to an amazing start.
How do I get qualified?
This apprenticeship is Level 3 and will last approx. 2 years.
You will be required to attend college one day per week where you will be taught theory and practical skills.
You may also be required to gain your Functional Skills in maths and English.
You will be required to build a portfolio of work throughout your training to demonstrate your knowledge, skills & behaviours.
You will need to pass an End Point Assessment which consists of a Knowledge Assessment and Practical Skills Assessment.
How will I be assessed?
You will attend college one day per week and be with your employer for the remaining time.  You will be assessed in a variety of ways and will receive regular constructive feedback.  You will be assigned a dedicated Training Officer who will support you for the duration of your Apprenticeship and will complete progress reviews with you, your employer and your assessor.
Your success will be measured by attendance and punctuality, professional knowledge, skills and behaviours and the production of evidence including workplace observations, professional discussions and workplace reviews.  You will be required to pass an End Point Assessment at the end of your apprenticeship to demonstrate your knowledge, skills and behaviours.