Diego
Plasterer with Hayles & Howe
Diego started his L2 Plastering Apprenticeship in September 2021, working for Hayle's and Howe. We caught up with Diego to see how he is getting along!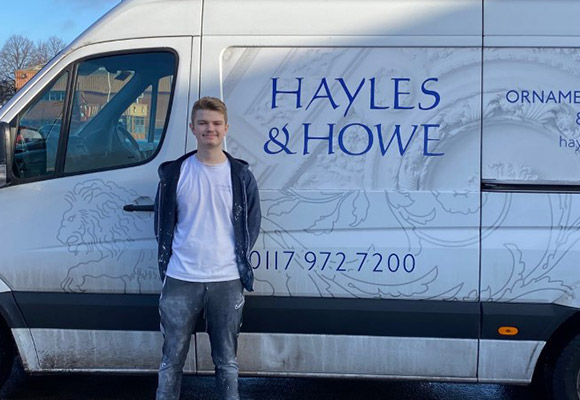 What Apprenticeship are you studying?
L2 Plastering Apprenticeship
What made you apply for an apprenticeship with On Site Bristol?
My brother is a plasterer and I had always been interesting in following in his footsteps and doing a similar job and I thought an Apprenticeship would be the best way to get into this trade. On Site Bristol was recommended to me by a family member, they had heard good things about how they support Apprentices.
Describe a typical week?
Each week is different, depending on what projects we are working on.  I spend time each week shadowing the experienced members of the team and then working with them to manufacture bespoke fibrous plastering moldings and castings ready to be fitted on site.  I also spend a lot of time on site fitting these moldings.  I have been lucky enough to work in some very prestigious buildings including Morcombe Winter Gardens and the Bristol Beacon.
How do you find the workplace/college balance?
I really enjoy both work and college. I'm always learning and can see how to apply what I have learnt at college to the workplace.
I must enjoy it as I've never been late or missed a day or work or college! I've also been given the opportunity to undertake additional training qualifications in the workplace. I've completed working at heights safety harness and lanyard, asbestos awareness, manual handling, and abrasive wheels. I'm also working towards CSCS and Pasma certifications. On Site Bristol have been so supportive since I first applied to them, and I look forward my progress review meetings with my Training Officer, Mark.
What do you enjoy most about your apprenticeship?
I really enjoy working hard and learning new skills. I enjoy the variety of each week and using skills I have learnt at college in the workplace. I really like meeting new people and learning top tips from them! I also enjoy my progress review meetings with On Site Bristol and being able to see how far I have come!
Is the apprenticeship what you expected?
Yes it is! There's a great balance between work and college. Everyone I deal with at work, college and at On Site Bristol are helpful, supportive and want me to succeed.
What are your ambitions for the future?
I'm not sure I only started the apprenticeship in September 2021, so a long way to go yet. I would like to continue working for Hayles and Howe for the foreseeable future though as they are a good company to work for with good reputation.