Jessica
Bristol City Council,
Housing Delivery
Jessica joined as an On Site Bristol Apprentice in 2021, with Bristol City Council Responsive Repairs Team undertaking a Painting and Decorating Apprenticeship.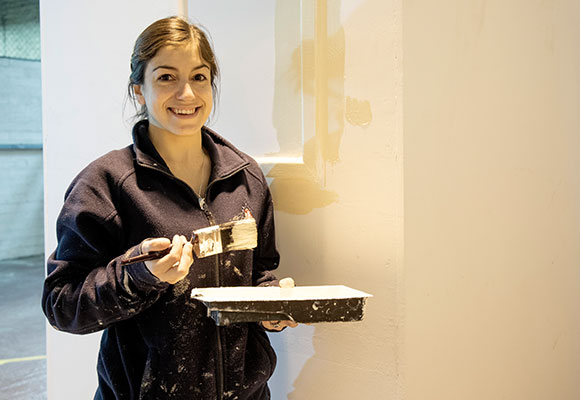 What Apprenticeship are you studying?
I'm studying Painting & Decorating Level 2 and am in my first year.
What made you apply for an apprenticeship with On Site Bristol?
For the largest part of my working life, I have worked in hospitality which I never really enjoyed. Before moving to the U.K, I worked in a factory, and I enjoyed this practical work. Unfortunately, when I moved to the U.K there were no similar factory jobs and I went back to working in hospitality. During the first lockdown during the Covid-19 pandemic, I helped my employer in refurbishing the restaurant and I enjoyed it and felt that I would like a career in this. I did some research into P&D apprenticeships and found On Site Bristol online. I completed the application form and went through their recruitment process which included an assessment and a short interview exploring my reasons why I wanted to become a painter and decorator, I found On Site supportive and encouraging of my future ambitions. On Site Bristol put me forward to my employer for consideration of an apprenticeship and I was invited to attend an interview. I was informed that I had been successful within a couple of days.
Describe a typical week?
I mainly work in empty council properties, preparing them for re-let. I Work alongside an experienced Painter & Decorator and I have undertaken lots of shadowing and mentoring, learning decorating techniques including the preparation of surfaces and applying paint by brush and roller. I also go to college one day per week which I enjoy. This week I worked on a colour circle, using different colours which enabled me to work on developing my brushwork skills.
How do you find the workplace/college balance?
It's really good, I am enjoying my work and enjoy seeing the finished product, which is something I never really achieved whilst working in hospitality and gives me a good sense of achievement.  College and work complement each other so it feels like I am always learning.
My employer is very supportive of all apprentices and my supervisor is very patient, teaching me different ways of working in the workplace and linking my work to what I have learned in college.
What do you enjoy most about your apprenticeship?
I enjoy covering a good variety of work, being able to learn in college as well as in the workplace. It's very satisfying to see the transformation of the properties I work on. I have worked with several different colleagues which has allowed me to learn new things from them and pick up new skills that are required in my trade.
Is the apprenticeship what you expected?
Yes, absolutely. I enjoy learning new things and finding solutions to any difficulties we come across. It is very different from jobs I have previously done and I have found that I have had to adapt my mindset in relation to how work is approached because there are recognized sequences that I need to follow and understand.
What are your ambitions for the future?
I would like to remain in the industry and stay with my employer if possible. If that's not possible then I would look to become self-employed and set up my own business. I can definitely see myself remaining in the industry wherever that may take me.