Marley
CSM Electrical Services
Marley is working for CSM Electrical Services in Bristol alongside his boss Charlie.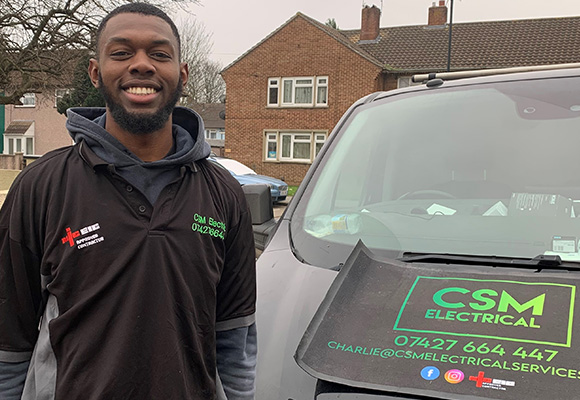 What Apprenticeship are you studying?
I am undertaking the Level 3 Electrotechnical (Installation) Apprenticeship and am in my second year!
What made you apply for an apprenticeship with On Site Bristol?
I was unsure of what to do after studying my A Levels at college. I knew I wanted to get into a trade but wasn't sure whether to do Electrical or Gas Engineering, a family friend recommended electrical and suggested an Apprenticeship. I was able to get some work experience once a week for around 6 weeks with Bristol City Council in the planned maintenance section and they suggested I apply to On Site Bristol.
Describe a typical week?
I work with Charlie the owner of CSM every day it's just the 2 of us. Our work is mainly at domestic properties. I have been working on lots of extensions and loft conversions putting in the wiring for lights and sockets.  I have been shadowing Charlie with testing more recently, as I am covering this at college for my unit 06 Inspect, Test and Commission Electrical System. I have also been in the workshop at college working on metal conduit this week for my unit 05 Terminate & Connect Conductors.
How do you find the workplace/college balance?
I really enjoy the working environment, it's a good balance between working and college, with the 4 days at work and 1 day at college. It helps to put into practice what I have learned at college, and I can do this with Charlie and he's always happy to discuss them with me.
What do you enjoy most about your apprenticeship?
I like to learn new skills, and I am enjoying it more as my understanding increases. I feel like I'm progressing more after each week. I like meeting new people and have made new friends at college. I'm enjoying meeting new customers as we are moving around to different jobs at work.
Is the apprenticeship what you expected?
I didn't know what to expect, but it's been a positive experience and better than I expected! It has been good that I get one-to-one experience with my employer.
What are your ambitions for the future?
I am in my 2nd year and have another 2 and a half years to complete my apprenticeship. I would in the future like to venture out on my own or start my own company but want to gain more experience and confidence first.