James
Cook & Harris
James has been employed by Cook & Harris for 2 years as a plumber and recently joined the On Site Bristol as a Gas Engineer Apprentice.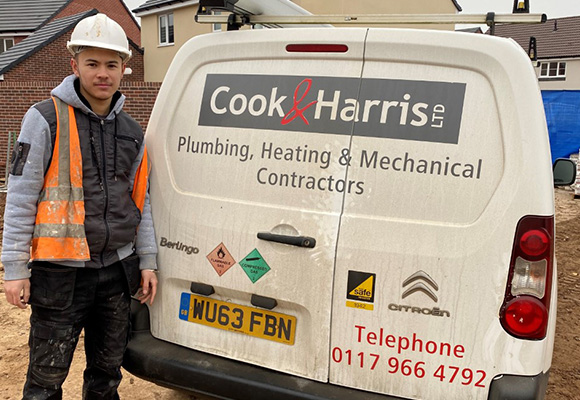 What Apprenticeship are you studying?
I'm studying the Gas Engineer Apprenticeship and I am in my second year.
What made you apply for an apprenticeship with On Site Bristol?
I had previously gained my plumbing qualification at college and had been working within the industry for a couple of years.  My employer suggested I take up an Apprenticeship to enable me to get my full Gas Engineering qualification, as a slightly older student, and someone already employed, I didn't realise this was an option for me!  On Site Bristol has worked alongside my employer supporting Apprenticeships for a while so I applied to them, and they were great at explaining the process and how it all worked.
Describe a typical week?
Each week is different depending on the type of job we have, it's always very busy though. I mostly work in domestic properties doing 1st and 2nd fixes.  I also go to college once a week which I enjoy, it's nice to hear from other apprentices about the work they've been doing.
How do you find the workplace/college balance?
Really good, I like the mix of working and studying. It's good to learn things at college and then be able to practice or watch this being done for real in the workplace.
What do you enjoy most about your apprenticeship?
I like the variety of work I have and the mix of working and studying I like the people I work with, they're a really good bunch and we always help each other out and of course, I like earning whilst I'm learning! It's great to be paid to get a qualification.
Is the apprenticeship what you expected?
Yes, the structure of the apprenticeship was all explained to me by On Site Bristol and so far it is exactly as they explained and what I expected. I know that if I put the effort and work in over the next couple of years I can achieve my goal of getting my Gas Engineer qualification.
What are your ambitions for the future?
Once I'm qualified I'd like to continue to gain more experience for maybe another 3-5 years and then see where life takes me!