Keiran
Taylor Wimpey
Keiran started his L2 Bricklaying Apprenticeship in 2019 with Taylor Wimpey Bristol. We had a chat with Keiran to ask him about his apprenticeship.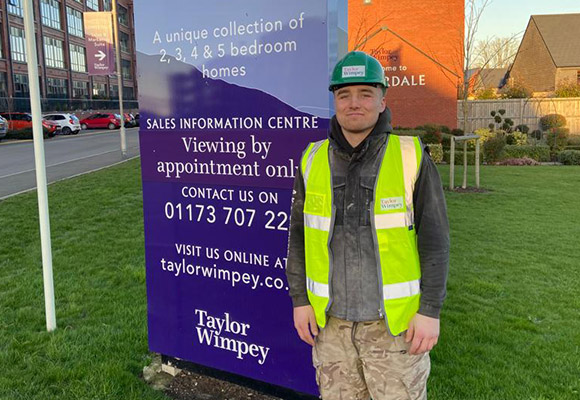 What Apprenticeship are you studying?
What made you apply for an apprenticeship with On Site Bristol?
My dad is a bricklayer and so is my older brother, and I had always wanted to do the same trade as them. My brother did his Bricklaying Apprenticeship with On Site Bristol and they were brilliant with him so applying to On Site Bristol, for me, was the obvious choice.
Describe a typical week?
I've been working on a large housing development called Somerdale in Keynsham. I've been building houses, garages, and garden walls. I am working with the qualified bricklayers learning their trade, laying bricks and blocks, fitting insulation, jointing up, fitting lintels. I'm also now coming towards the end of my apprentice so spend time each week developing my portfolio of work and working towards my end point assessment.
How do you find the workplace/college balance?
I really enjoy bricklaying and I enjoy both work and college! It feels great to get paid to learn. The balance between work and college is just right and the two link perfectly together. I get a lot of support from the gang of bricklayers that I work with, from our Apprenticeship Manager, Neil and Mark, my Training Officer from On Site Bristol.
What do you enjoy most about your apprenticeship?
Getting paid to learn and being outside. I've really enjoyed watching my skills and confidence grow and I feel really proud of the progress I have made. It's really satisfying working on site and seeing a job through from start to finish.  It's also really cool to seeing people living in the houses that I helped build.
Is the apprenticeship what you expected?
Yes, and I've loved the whole process combining college and practical hands on experience. It's definitely the best way to learn. My apprenticeship was disrupted a bit by the coronavirus pandemic but both Taylor Wimpey and On Site Bristol remained on hand to help and reassure me, and I've been able to.
What are your ambitions for the future?
I am hoping to be qualified by April this year and then I'd like to become a subcontracting bricklayer for Taylor Wimpey continuing as an improver for the next couple of years. Then maybe, in the future I will have my own bricklaying gang.